Pack Ride NOVICE
I WANT TO KNOW THE BASIC RULES AND TECHNIQUES FOR SAFE RIDING
This is a pack that is aimed at all new off-piste skiers.
With your esf instructor, set off to discover the mountain on skis, snowboard or freerando, where no one has gone before you.
- reading the terrain to choose your line
- off-piste safety rules
- communication in the mountains
- how to evolve in a group
- the mountain environment and its vocabulary
- the different types of snow
- observation of the weather
- the avalanche risk scale
- the use of the avalanche transceiver, shovel and probe
- how to alert the rescue services
- how to send GPS coordinates

Practical information
9h00 - 12h00
Maximum group of 6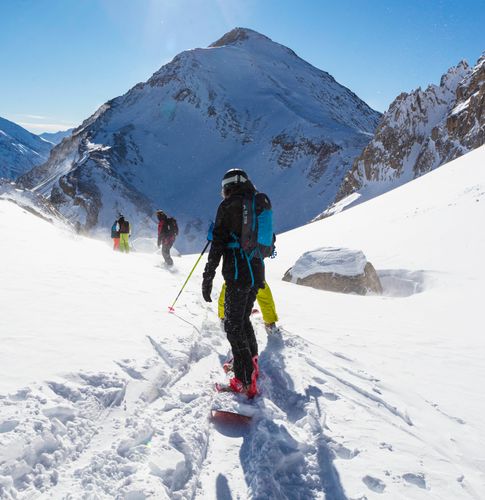 Pack Ride INTERMEDIATE
I AM TEMPTED BY LONGER ROUTES AND I WOULD LIKE TO MASTER THE RIGHT TECHNIQUES IN untouched ENVIRONMENTs
This is a pack for good skiers who want to acquire the knowledge and skills for all mountain situations.
- Freerando
- group interactions and rules
- how to play with the terrain and speed
- recognising risks
- the snowy mountain environment and its particularities
- the snow cover and its layers
- the different types of avalanches
- maps and mountain apps on your smartphone
- the marking function of the DVA
- probing and shovelling techniques
- how to locate yourself and send your coordinates
Practical information
9h00 - 12h00
Maximum group of 6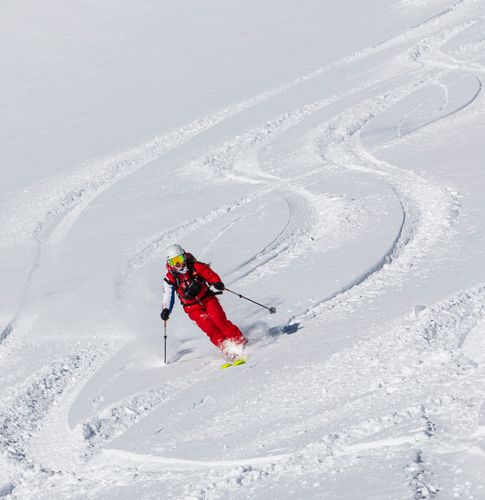 Pack Ride CONFIRMED
WITH A GROUP OF VERY GOOD SKIERS, WE WOULD LIKE TO DEVELOP OUR AUTONOMY IN MOVEMENTS AND OPTIMIZE OUR TECHNIQUES.
This is a pack for experienced riders who want to ride beautiful slopes and wild routes for fun.
- specific techniques (steep slopes, difficult snow)
- how to manage your efforts / emotions
- group riding strategies and ways to reduce risks
- responsible behaviour
- snow tests for a better understanding of avalanches
- weather on the snowpack
- use of orientation applications
- Searching for multiple victims
- Searching for a probe point
- shovelling in teams

Practical information
9h00 - 16h00
Maximum group of 6
Training 100% Off-piste (6 day formula)
Pack Ride Intermediate
6 half days
Morning only

From Sunday to Friday:
Far from the crowds, following in the footsteps of your instructor/guide, slide down untouched wild slopes, dive into discreet corridors, slalom in the heart of the forests and descend into long secret combes.
You will trace the most beautiful off-piste itineraries between France and Italy.


Practical information
Morning 9h00 - 12h30
Do I need to have specific equipment?
esf will provide you with the avalanche detector, shovel and probe. You can rent ski equipment adapted to off-piste. Don't forget to bring a helmet, something to hydrate you and a snack.
I have never done off-piste before, but I have a good level of ski. Which level should I choose?
The ride pack has 3 levels. The novice level is for those who have a good level of ski who want to discover off-piste.
I already know the good off-piste areas in the resort. What else will the pack ride give me?
In addition to safety training, the instructor will give you technical advice on how to ski with greater ease and safety. With their knowledge of the terrain they will always find the best spot with the best snow and can organise outings to Briançon or Italy with a return bus.