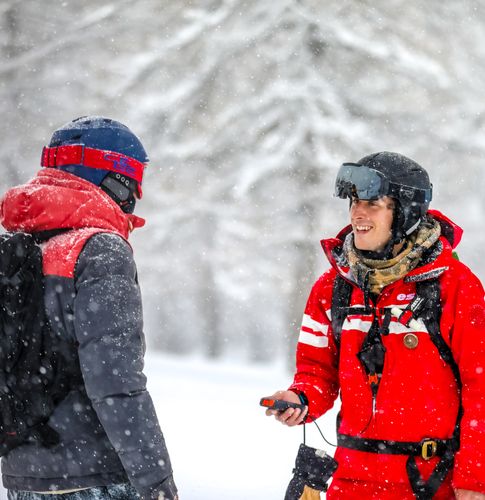 Security Pack - discovery
No skis
Learn the basics of safety.
The mountain is demanding. Knowing it well is the essential to your experience, , because you have to learn the mountain, whatever your level.
Take part in a basic training course in mountain risk prevention and management
- how to move around safely
- know and use your equipment
- the snow cover
- Avalanche forecasting and the 30° avalanche warning
- call for help
- Locate yourself and send your coordinates
- know, check and use your safety equipment (avalanche transceiver, shovel, probe, backpack)
- double check the avalanche transceiver
Practical information
10h30 - 12h00 or

14h00 - 15h30 or

16h30 - 18h00

At the bottom of the pistes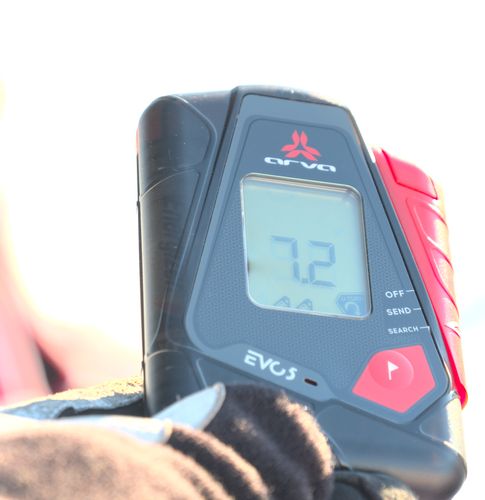 Security Pack - intermediate
SKI - SNOWboard - TELEMARK - SKI touring- SPLITBOARD
I want to understand the dangers of the mountain to go safely off the marked trails.
Detect the risks
Acquire the knowledge and the gestures adapted to all mountain situations
- simple techniques for moving around in difficult terrain and snow
- safety distances in a group
- observe a simple snow section
- recognise a fragile layer
- interpreting avalanche forecasts
- recognise 30° slopes
- observe to prevent risks
- locate yourself on a map and issue an alert
- learn how to use radios
- check equipment
- organise an avalanche rescue
- search for two avalanche victims


Practical information
9h00 - 12h00
At the bottom of the pistes
This training is done on skis or snowboard in groups of maximum 6 participants.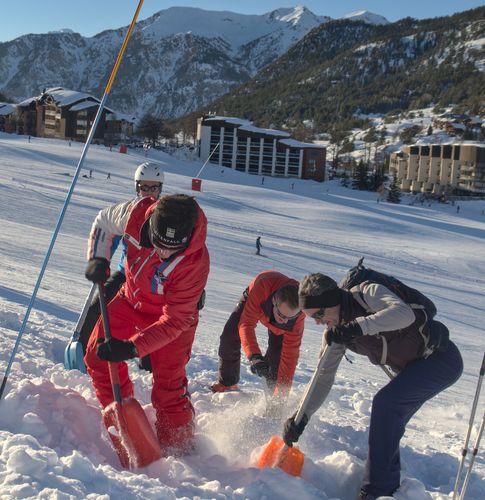 Security Pack - confirmed
SKI - SNOWboard - TELEMARK - SKI touring - SPLITBOARD
I want to check my skills, confirm and update my techniques.
I want to feel autonomous in all situations.
Leadership and autonomy
- adapt my technique to all situations
- overcome obstacles and difficult terrain
- become the leader and lead the group
- analyse observables for a better estimation of the avalanche risk
- carry out a snow cut
- identify and understand fragile layers
- learn to manage 30° slopes
- interpret new loads and wind action

Practical information
9h00 - 16h00
At the bottom of the pistes
Watch our security video (in French with ENG-SUBTITLES)
We respond to your
questions
Is the security pack relevant to snowshoeing?
The security pack has been adapted to all practices including snowshoe walking.
I don't have the security material, do I need buy it?
esf will make sure we have everything you need available. You only need to make the most of the advice given by the instructor.
Why this type of programme?
Because esf aspires to have a mountain where everyone can feel completely at ease in any snowsport. But, the mountain can be risky and you need to know how to navigate it safely.
I have an avalanche detector but I don't know how to use it, shall I bring it along to the security pack training?
The safety pack is designed to empower each skier to know how to use the essential off-piste equipment, i.e. avalanche transceiver, shovel and probe. The instructor will teach you the best practices, because in a group you have to be able to rely on each other!